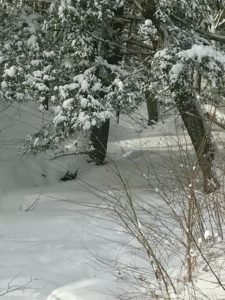 We are having quite a winter here in Vermont — cold and snowy like the winters we had when I was a child. As I did then, I am enjoying this one. Now that I don't have to drive to school every day, I don't find my heart clenching in terror at the forecast of icy roads in the morning darkness. Of course, I still worry about my family out there, but physically at least, I am spared the stress of white-knuckle commutes where a forty-five minute drive often took an hour and a half, and I would be such a knot of muscle cramps when I got to school that I would sometimes cry all the way into the building and hide in the bathroom for a while before I could face students. Yeah, I'm that much of a mess over bad roads, thanks to two really bad car accidents in which I was a victim that left me with some back problems and a bit of PTSD.
On the other hand, I do miss my students and fellow educators and the excitement of never knowing what the day had in store, and feeling of accomplishment of helping to make someone's life a little better. I know I'm missed, too. But after seventeen years of being in high school, I am ready to focus on myself again and put my MA in English and BFA in Writing to use as I always dreamed.
On these winter days, I rise much later than I used to, spend some time doing housework or errands, then go for a walk up my beautiful dirt road and soak in the quiet of snowy woods and fields around me. Then I spend the rest of the day alternately writing or working on the self publication of my older titles project or tweaking my new website. I have started baking bread again from scratch, kneading it by hand and enjoying the way its wholesomeness permeates the whole house. My outside bird feeders at my writing windows help keep me aware of the outdoors when I'm inside. I also have two ten month old kittens, Piper and Willow, who keep the house very lively and me very warm under their purring furriness. I love them to pieces. And then the early darkness comes, I turn on the soft house lights, and later my husband arrives from his day job and then music often fills the house, if it's a night his band practices downstairs.
I'm slowly getting used to this new life. Sometimes it feels like time is slipping past faster than it used to. Sometimes I dream about school and I wake up in a panic, thinking I've slept through the alarm. I am going to keep a journal every day of what I do, just so I can read it back and know that I really do still exist without kids calling my name at me all day. Winning the Best Gay Paranormal Romance Award helped reaffirm my decision, as did having my novel, Winter, accepted by Less Than Three Press. And watching the word count on my next novel, The Music of Space, grow.
So I am letting the seasons change, looking forward to moving back to camp in early May, hopefully, and slowly settling into my new stride.
Thanks for reading.